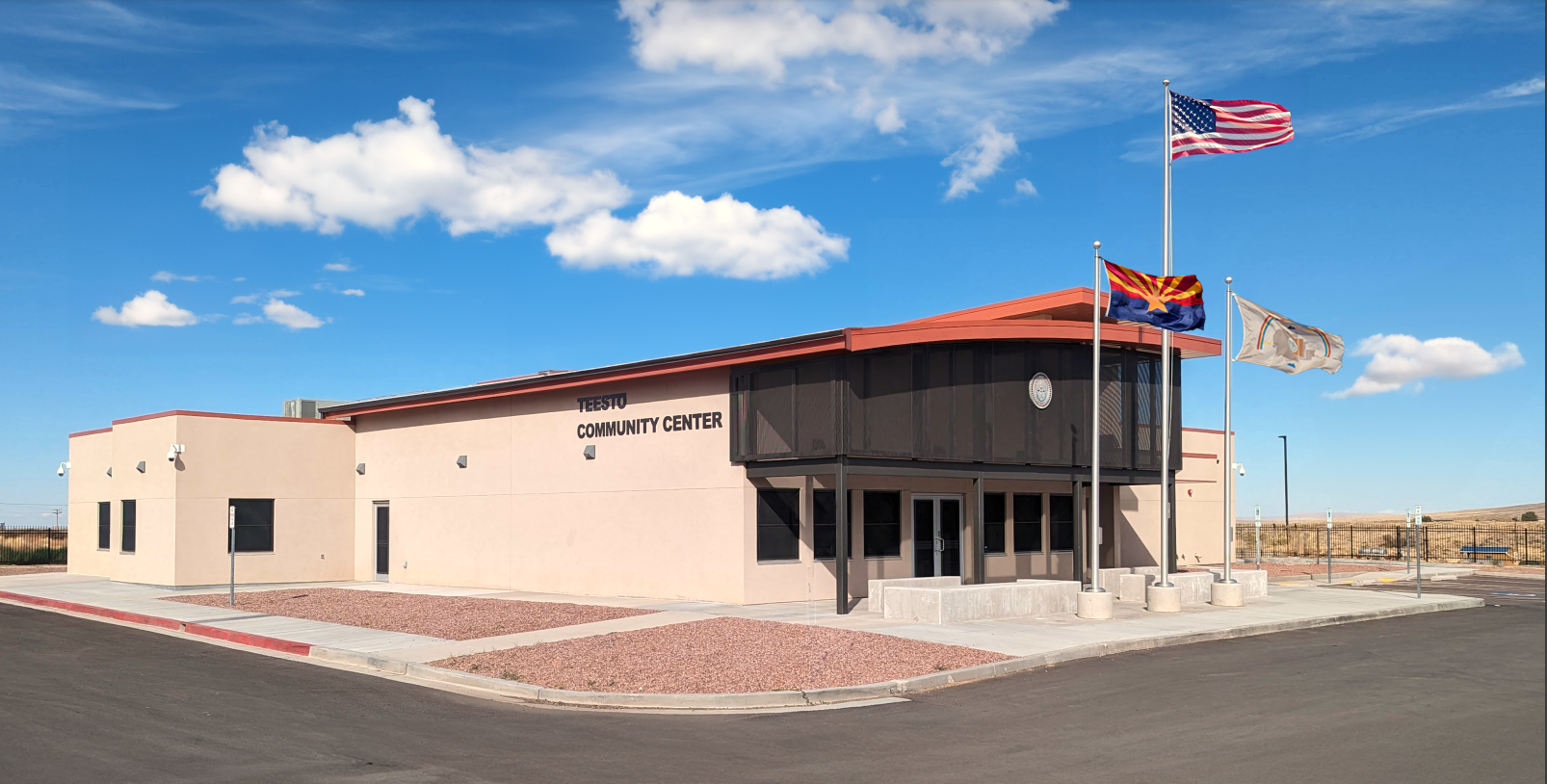 Welcome to Teesto Chapter
When Teesto laid along the main road between Dilkon and Polacca it was known as Ha'nanee'tiin, "Road Going Past."
When Arizona Route 87 was built in the 1960s, the community was bypassed and became much less prominent. Teesto's unique location was the blending ground between Navajos and the Hopis to the north. Today, Teesto remains on the border between the Navajo and Hopi Reservations where the community has remained committed to the land and the people surrounding them. In the year 2015, the Chapter has been burnt down, until March 2023 the chapter has been restored.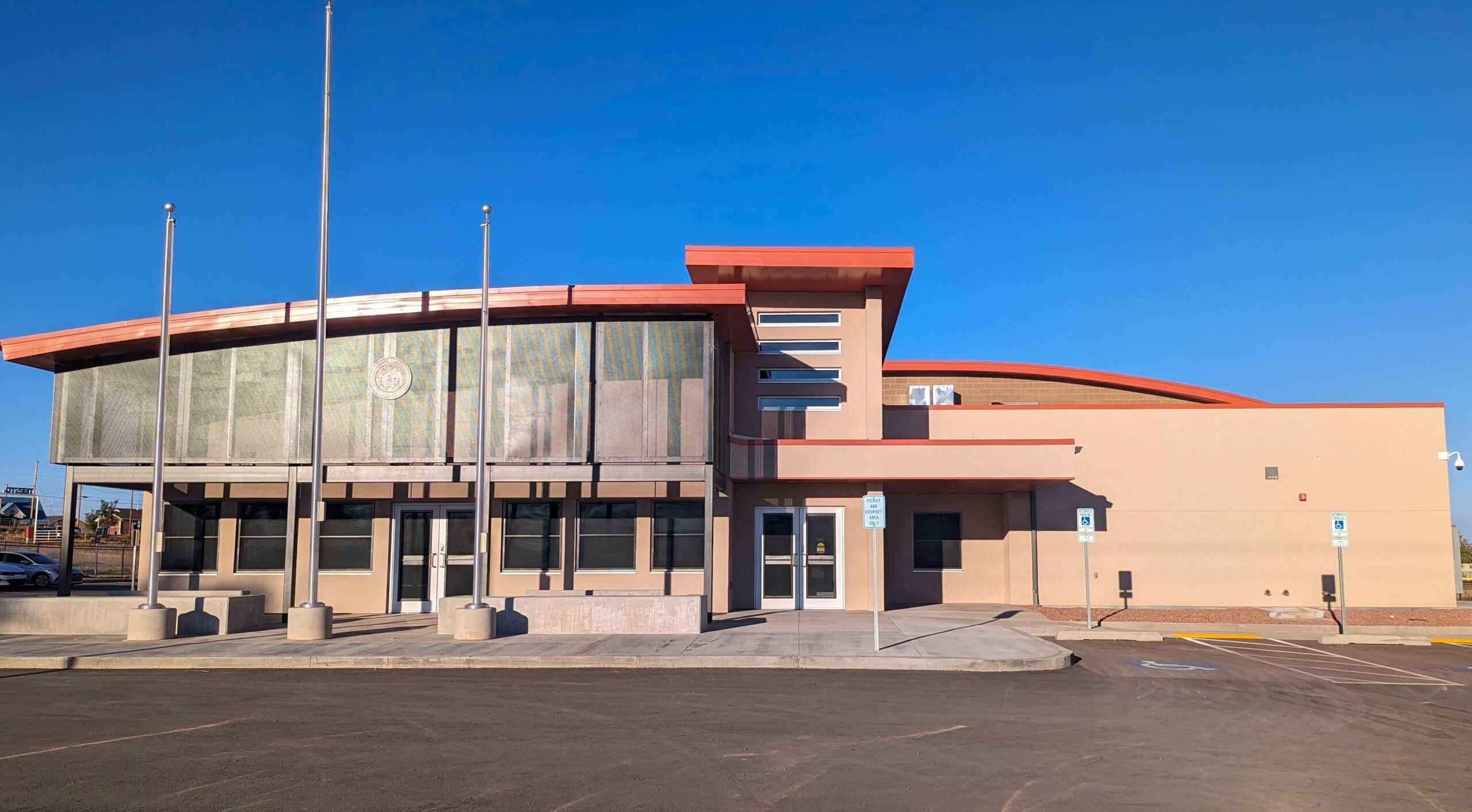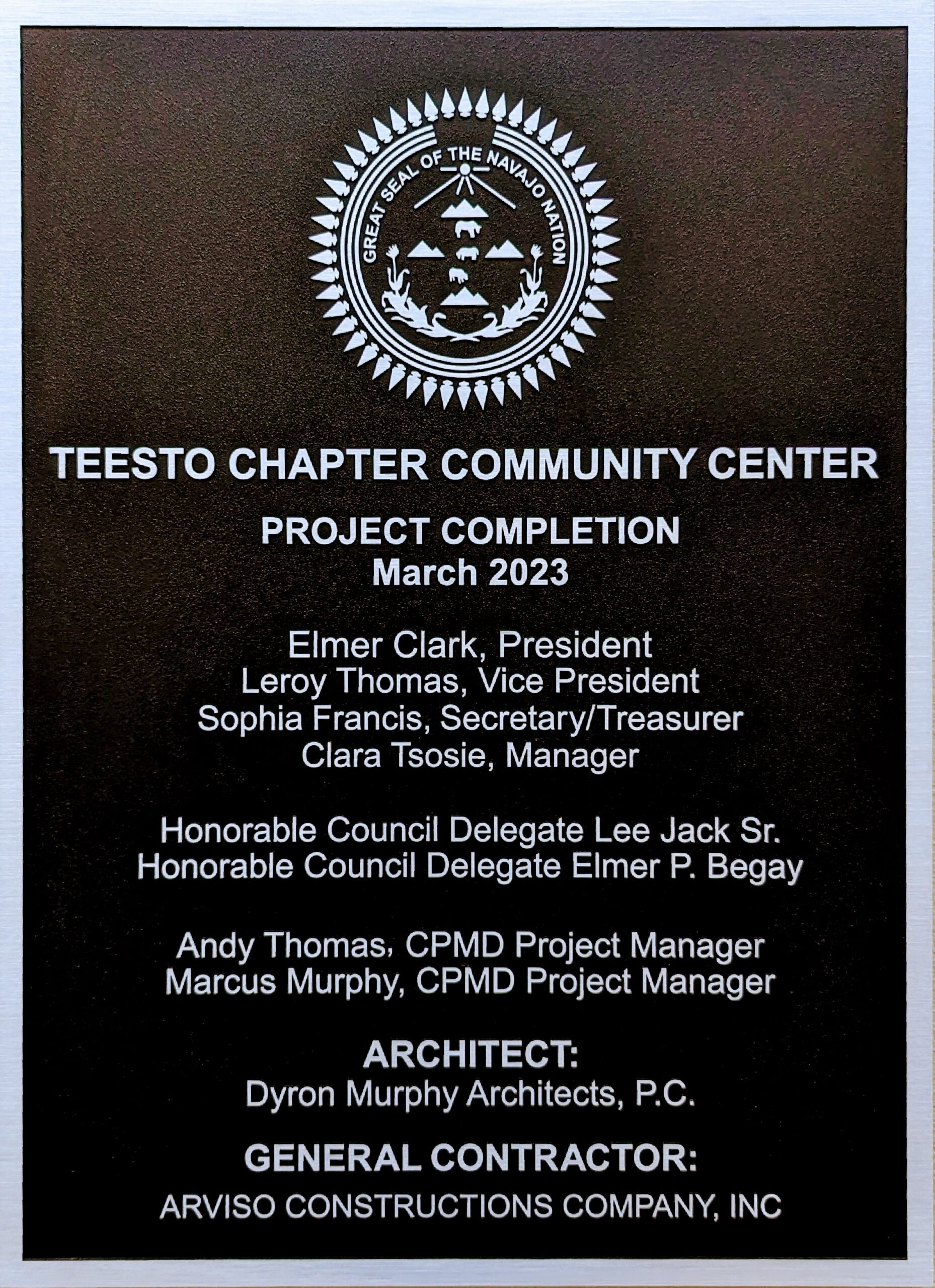 CHAPTER ADMINISTRATION
Clara Tsosie, Chapter Manager
Helen Yazzie, Administrative Assistant
Sharon Begay, Office Specialist
Marquez Vandever, Postal Clerk
Allen Benally, Heavy Equipment Operator
Lorenzo Lee, Custodian
Gloria Begay, Groundskeeper
CHAPTER OFFICIALS
Elmer Clark, President
LeRoy Thomas, Vice-President
Sophia Attakai-Francis, Secretary/Treasurer
Morgan Yazzie, Grazing Official
Cherilyn Yazzie, Council Delegate (Teesto/Dilkon/Indian Wells/ Greasewood/ Whitecone)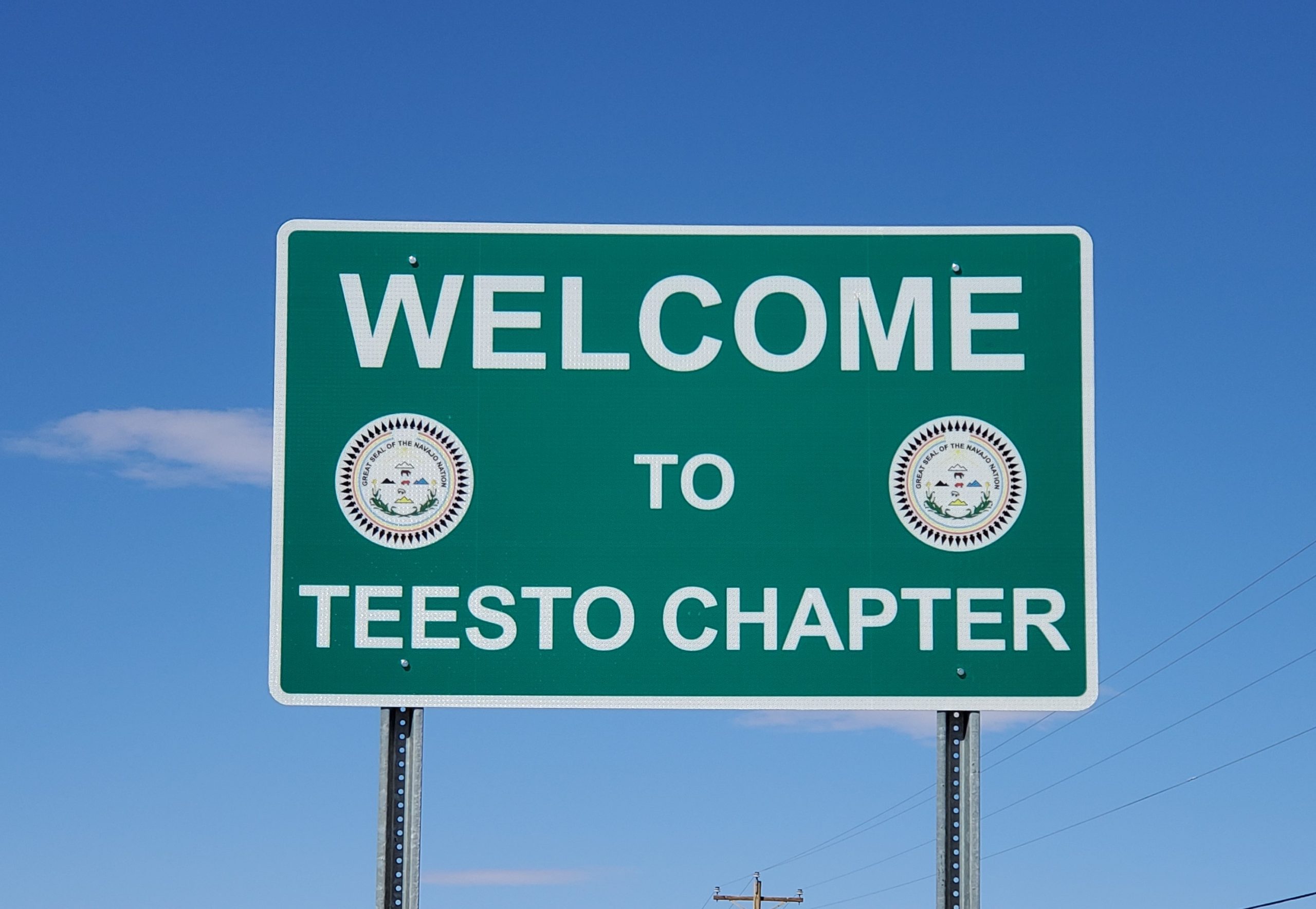 Teesto Planning & Chapter Meetings
Please sign-in at the podium near the door, also please respect others. Do not interrupt the meeting or when presenter is speaking. Thank You
PLANNING MEETING
DATE: December 4, 2023
TIME: 9:00 AM (MST)
CHAPTER MEETING
DATE: December 18, 2023
TIME: 10:00 AM (MST)
Special Meeting
DATE:
TIME:
Veteran's Meeting
DATE:
TIME:
Grazing Meeting
DATE:
TIME:
LOCATION:
Monday to Friday
8:00 AM – 5:00 PM
Last Transaction for Trash/Water at 4:30pm
Free water to 5 Gallons Jugs only for human consumption
TEESTO CHAPTER POST OFFICE
Monday to Friday
Lobby Hours
8:00 AM – 5:00 PM
Post Office Opening Hours
10:00 AM – 3:00 PM
Lunch Hour
1200 PM – 1:00 PM
Packages can ONLY be Picked UP during Post Office Hours
Mail Only pick-up is during Lobby Hours
Please Provide Post Office Keys
ST. MARY FOOD BANK
St. Mary's Food Distribution has been on hold till February 2024
TO ALL CONCERNED
Water Delivery is now open you place a delivery, Delivery Schedule is Monday, Wednesday, and Friday 
Also, Teesto Heavy Equipment Service is On Hold until further notice.
Good morning Teesto Community & Local Community
You can now pick up/snag a Coal Tickets/Cards have been issued October 25, 2023.  Also, we "can not" hold, email, and mail you the ticket, you must pick up in-person. Limited Cards have been supplied, please come to the Reception Desk to pick one, furthermore you must sign out the ticket. Due to Cards not being claimed or missing. For more infomation, you can give call us at (928) 657-8042 or via email, teesto@navajochapters.org.
Teesto has received 2024 Light Up Navajo Applications an is ready to be distributed to the community. Below is the PDF Format everything should be included in the application.
To whom are concerned, during the Post Office Box Renewal we may ask for a one form of identity (Driver's License or Identification) that is required.
Teesto is releasing an application for home repair and renovation to community members. Update: The ARPA Application now has a deadline, which is December 1, 2023. For more info please call (928) 657-8042 or via email teesto@navajochapters.org
November Calender
November 2, 2023 – Thursday : Grazing Meeting
November 5, 2023 – Sunday : Daylight Savings Time has ended and will revert back to Winslow Time (Mountain Standard Time)
November 6, 2023 – Monday : Teesto Planning Meeting @ 9:00 am (MST)
November 7, 2023 – Tuesday : Teesto Chapter & Post Office will be closed due to Special Election
November 10, 2023 – Friday : Teesto Chapter and Post Office will be closed due to Vetern's Day Observance
November 20, 2023 – Monday : Regular Chapter Meeting @ 10:00 am (MST) & Thanksgiving Dinner Drive-Thru
November 23, 2023 – Thursday : Teesto Chapter & Post Office will be closed
November 24, 2023 – Friday : Teesto Chapter & Post Office will be closed
December Calender
December 4, 2023 – Monday : Planning meeting @ 9:00 am (MST)
December 7, 2023 – Thursday : Grazing meeting @ 9:00 am to 3:00 pm (MST)
December 18, 2023 – Monday : Regular Chapter meeting @ 10:00 am (MST)
For Employment Application, you can go to the "Forms" tab above or come to Teesto Chapter to pick up one. If you have any question, you can give give us a call at (928)657-8042.
For Proof of Residence, NNAA (Navajo Nation Addressing Authority) & NN Chapters (Navajo Chapters) are two different groups. Therefore, Teesto Chapter & Other Chapters WILL be able providing Resident Verification for:
Donated Food Program

Schools (Enrollment, Registration, etc.)

US Postal Service

Food Stamp Program

NN/State TANF Program

LIHEAP Request

Plasma Donation

Utility Companies (NTUA, Cont. Divide, etc.)

NN & County Voter Registration

Other Minor Request
NNAA WILL ONLY provide Physical Address Verification (PAV) for:
State Driver License New or Renewal

State Identification Card New or Renewals

State Vehicle Registration

Clear MVD State Citations

Purchase Firearm

US Veterans Department

Auto & Bank Loans

Court Order
PDF application can be scanned/emailed or faxed. Scan your application and your supporting credentials and email to the email address on top of the form. For faxing:  fax your application (must have Adobe Acrobat Reader) and include your required credentials as well and Fax to (928) 871-7189. Phone number (928) 871-6093
Addressing Authority office is located North of the NN Police Department next to the NN Fire Department in Administration Building #2; Bldg #2296 on the 2nd Floor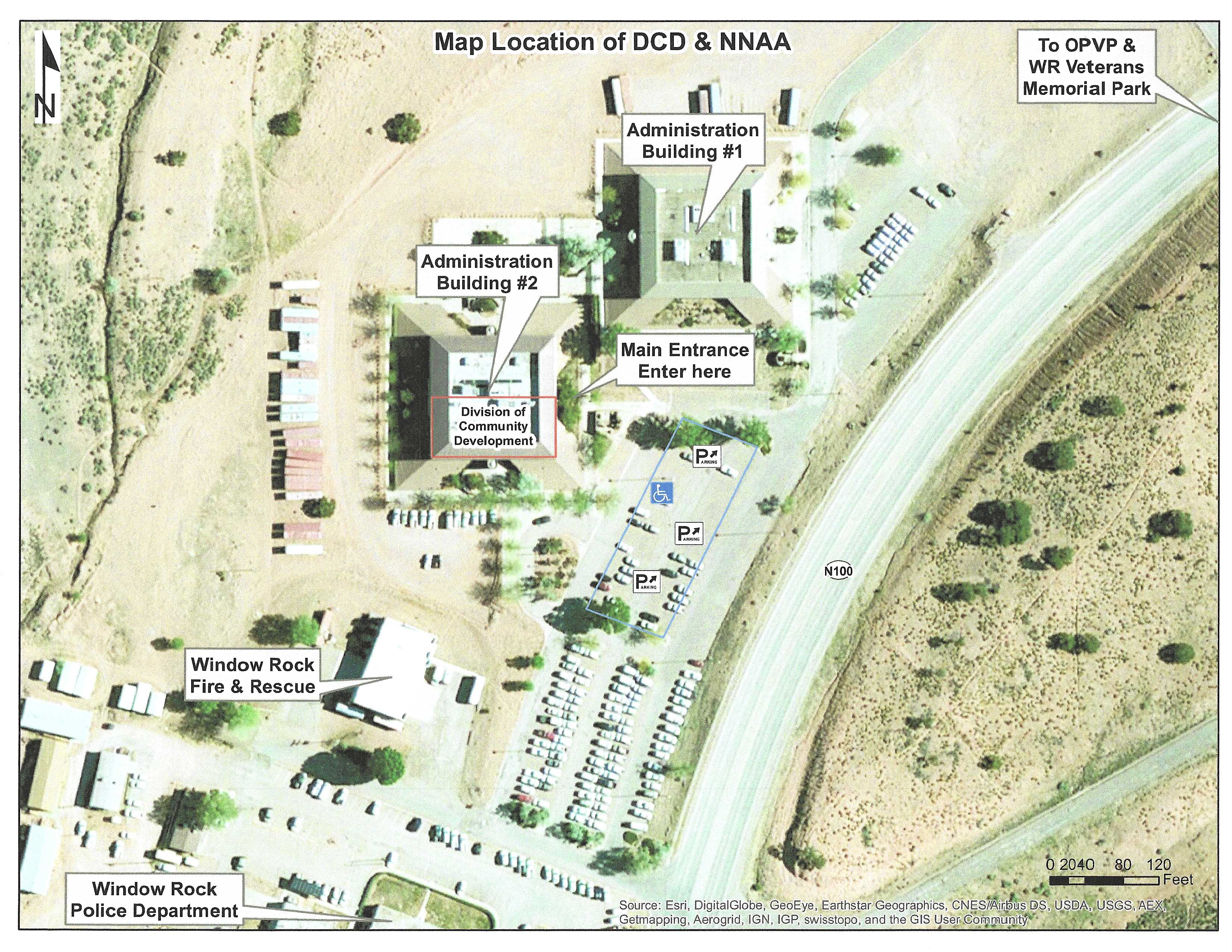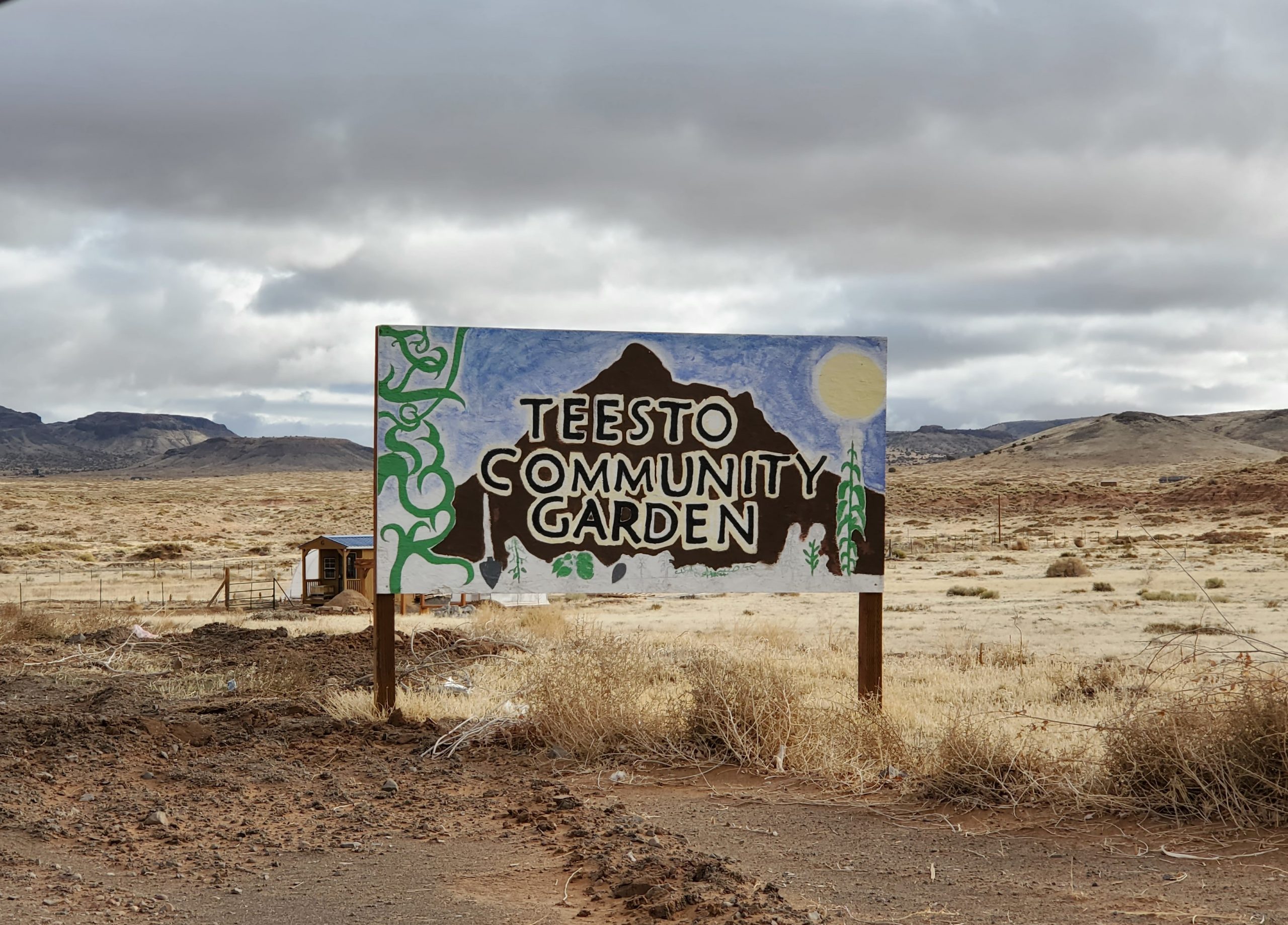 ATTENTION
TEESTO CHAPTER SELLS WOOD PERMITS ON WEDNESDAY ONLY 1PM – 3PM  Personal Use January 01 – April 30 – $5.00 per Month May 01 – December 31 – $1.00 per Month Resale Permit January 01 – April 30 – $10.00 for 5 Days May 01 – December 31 – $5.00 for 5 Days *No Charge for 60 years and older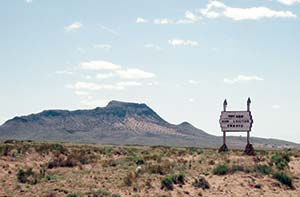 TEESTO COMMUNITY FOOD DISTRIBUTION
IS ON THE 4TH WEDNESDAY OF THE MONTH
ADMINSTRATION/POST OFFICE WILL BE CLOSED ALSO NO SERVICES PROVIDED ON THIS DAY
Navajo Nation Environmental Protection Agency
PO Box 339 Window Rock, Arizona 86515
Phone: (928) 871-7393
Fax: (928) 871-7996
WATER DELIVERY
TUESDAY/THURSDAY ONLY
TRASH BIN / WATER
OPEN MONDAY – FRIDAY
Limited Ten (10) Bags
8 AM TO 4:30 PM (DST)
Please be aware that you may be asked if your a Navajo Nation Voter "not" Navajo County Voters
Dilkon Administrative Service Center
Eunice Begay, SPPS – (928) 240-3401
Toni Mina, ASO – (928) 380-3862
If you need any forms such as Heavy Equipment Rentals, Assistance Application, or Funeral Assistance. Please press the "Forms" tab up above the selection.
Thank you.